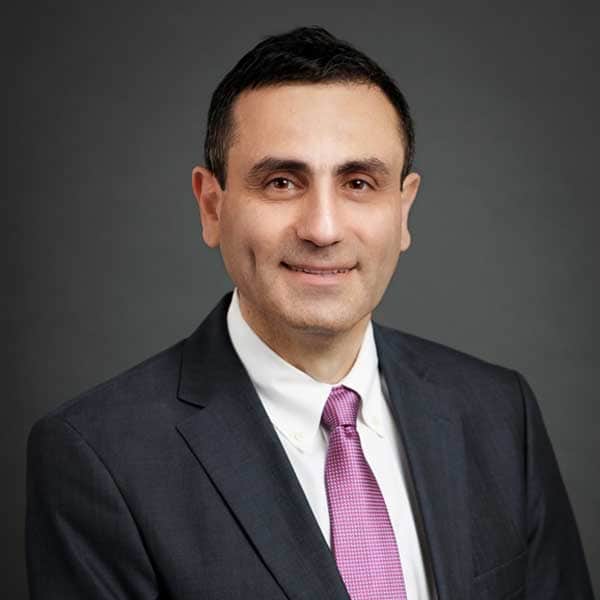 Dr. Maksoud received his medical degree from the American University of Beirut, Lebanon in 1989. He did his Internal Medicine residency at the Cleveland Clinic Foundation in Cleveland, Ohio from 1989-1992. He completed his Pulmonary/Critical Care and Sleep Medicine fellowship at Baylor College of Medicine in Houston in 1997 and was awarded the honor of chief fellow. He also spent two years working in Emergency Medicine at Montgomery General Hospital in West Virginia from 1992-1994.
Dr. Maksoud is board certified in Pulmonary Diseases, Internal Medicine, Critical Care Medicine and Sleep Disorders.
Dr. Maksoud has been in private practice in the Southeast area since 1997. He is one of the co-founders/directors of Pulmonary and Sleep Physicians of Houston and Clear Lake Sleep Center. He is a sincere and dedicated physician and is recognized by many as having integrity and strong work ethic. As well as being highly respected by his peers, he remains on the cutting edge of the latest pulmonary treatments.
Dr. Maksoud is an active medical staff member at the following hospitals: HCA Houston Healthcare Clear Lake, Houston Methodist Clear Lake Hospital, HCA Houston Healthcare Pearland, Kindred Hospital Clear Lake, Cornerstone Specialty Hospitals Clear Lake, PAM Rehabilitation Hospital Clear Lake, Memorial Hermann Southeast and Memorial Hermann Pearland, Houston Physicians Hospital, UTMB Health Clear Lake Campus and Bridgemoor Transitional Care of Webster. In addition to being an active medical staff member of these hospitals, he holds many different staff leadership positions in the areas of Critical Care, Pharmacy and Therapeutics and Peer Review.
Dr. Maksoud chaired the Southeast Houston Harris County Medical Society in 2001. He continues to be the Medical Director for Alvin Community College's Respiratory Therapy Program.
Dr. Maksoud was the first to perform Ultrasound Bronchoscopies in the Southeast Houston area in 2012. He was also the first to perform Bronchial Thermoplasty as a treatment for Asthma in the Southeast Houston area in 2013.