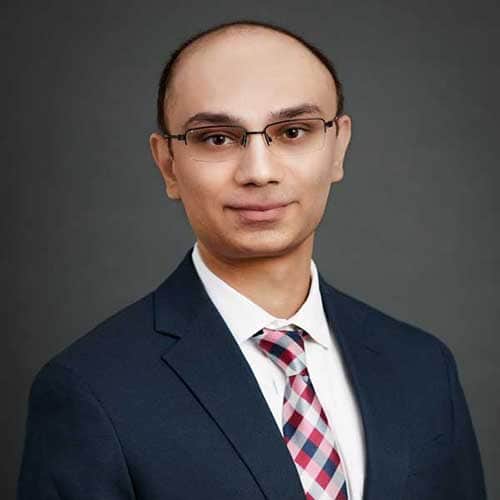 Dr. Bhatt received his medical degree from St. George's University School of Medicine, Grenada in 2009. He completed his Internal Medicine residency at St. Mary's Hospital/Yale University, Waterbury, CT 2009-2012; followed by his Pulmonary Disease Fellowship at Jamaica Hospital Medical Center, Jamaica, NY 2013-2015, Sleep Medicine Fellowship at Emory University School of Medicine, Atlanta, GA 2015-2016, Critical Care Medicine Fellowship at Baylor College of Medicine, Houston, TX 2016-2017.
Dr. Bhatt is board certified in Internal Medicine, Pulmonary Diseases, Critical Care Medicine and Sleep Medicine.
Dr. Bhatt is an active medical staff member at the following hospitals: HCA Houston Healthcare Clear Lake, HCA Houston Healthcare Pearland, UTMB Health Clear Lake Campus, Kindred Hospital Clear Lake, Cornerstone Specialty Hospitals Clear Lake, Houston Methodist Clear Lake Hospital, PAM Rehabilitation Hospital of Clear Lake, PAM Rehabilitation Hospital Clear Lake North and Bridgemoor Transitional Care of Webster.
Dr. Bhatt has advance training in Bronchoscopic & Critical Care procedures such as Bronchoscopy, (EBUS), Thoracentesis, Endotracheal Intubation and Chest Tube Placement. In addition, training in management of Sleep Disorders as well as interpretation of Sleep Studies and Multiple Sleep Latency Test.
Dr. Bhatt retains active memberships with the American College of Chest Physicians, American Thoracic Society and American Academy of Sleep Medicine.