M.D., FCCP
Dr. Maher Dahdel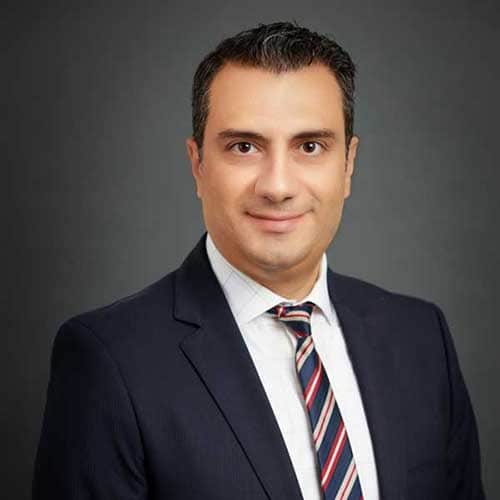 Dr. Dahdel received his medical degree from University of Damascus, Syria in 2000 . He completed his Internal Medicine Residency at University of Illinois at Chicago/Advocate Christ Medical Center 2005-2008. Dr. Dahdel received Academic Excellence Award during his Residency; then he did his Pulmonary and Critical Care Medicine Fellowship at UMDNJ-Cooper University Hospital in New Jersey from 2008- 2011. Dr. Dahdel completed additional training in the Interventional Pulmonology field.
Dr. Dahdel is Board Certified in four specialties: Internal Medicine, Pulmonary Disease, Critical Care Medicine and Interventional Pulmonology.
Dr. Dahdel is a partner of Pulmonary and Sleep Physicians of Houston. In addition to treating a variety of lung diseases and critically ill patients, he specializes in the field of Interventional Pulmonology; which in itself is an evolving specialty using minimally invasive procedures and cutting-edge technology for the diagnosis and treatment of lung conditions such as lung cancer and pleural diseases. These procedures include:
Advanced Bronchoscopy with ultrasound modality.
Therapeutic Bronchoscopy with endobronchial valve placement to treat advanced emphysema.
Thoracoscopy to treat pleural disease.
Percutaneous tracheostomy.
Tunneled Pleural Catheter.
Therapeutic Bronchoscopy using laser ablation and tracheal and bronchial stenting.
Dr. Dahdel is an active medical staff member at the following hospitals: HCA Houston Healthcare Clear Lake, Houston Methodist Clear Lake Hospital, Kindred Hospital Clear Lake, Cornerstone Specialty Hospitals Clear Lake and PAM Rehabilitation Hospital Clear Lake, HCA Houston Healthcare Pearland, Memorial Hermann Southeast, Memorial Hermann Pearland Hospital, Houston Physician Hospital, UTMB Health Clear Lake Campus and PAM Rehabilitation Hospital Clear Lake North. He has held many different staff appointments at these hospitals.
Dr. Dahdel is a fellow member of the American College of Chest Physicians, American Thoracic Society, American Association for Bronchology and Interventional Pulmonology. He has written many articles which have been published in medical journals and has received many achievements and awards.